Apex Fire Limited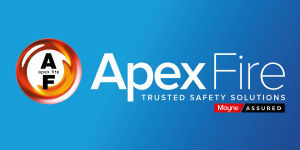 Apex Fire have a nationwide network on the Island of Ireland & is part of a larger group of companies, called the Moyne Roberts Group with companies operating in Northern Ireland & the r est of the UK, along with operations in Holland, Belgium & Germany. Apex Fire provide quality products that are Moyne Assured with expert credentials coupled with a quality service provided each time. We specialise in delivering Installation & scheduled services for Fire Detection, Protection products along with providing Fire & safety Training both classroom & online along with associated products. Apex Fire's specialises in all types of Portable & wheeled fire extinguishers, Fire hose reels/ cabinets & fire alarm /Emergency lighting systems. This can involve us doing a complete survey, followed by installation, commissioning & future servicing plans of these products to their relevant Standards. Apex Fire are at the forefront of developing relevant standards in its field at , national level(NSAI) & European level (CENTC70) in making our own contribution to this important area in the business of fire safety.
See our One Plan on our website www.apexfire.ie for further details
___________________________________________________
AWE Ltd

AWE Forklift Services Ltd. was established in 1985 and has grown to become a leader in the materials handling industry. We provide industry leading standards in Service, Sales and Rental throughout Ireland.
We are the official Irish agents for MasterMover electric tug solutions and distributors for the RCM range of sweepers and scrubber dryers in Ireland.
We also supply EP Equipment, manufacturers of forklifts and warehouse equipment.
___________________________________________________
OneLook Systems

OneLook Systems is a world leading provider of contractor management software that provides facilities, EHS, compliance and engineering / manufacturing leaders with absolute certainty that every worker on site will be safe and compliant.
Our best-in-class solutions are designed to help you streamline the end-to-end process of bringing people onto your site, issuing a permit to work, carrying out a job safety analysis / job hazard analysis, checking qualifications and insurance requirements as well as providing evidence of compliance.
Over the past 10 years OneLook Systems has become a key partner to hundreds of organisations in their drive to have absolute certainty that every contractor is compliant with their SOPs and conducting work safely.